The Ultimate Guide To Wig Length Chart: Find The Perfect Fit
As we all know, when it comes to choosing a human hair wig for yourself or your family and friends, many factors should be taken into consideration, like hair texture, wig density, wig cap construction, and wig color.
Wig length is key! From bobs to lobs and any hairstyle in between – there are tons of distinct looks to show your overall style. 
If you feel confused to choose the correct wig length, this guide is for you. In this blog, we covered everything you want to know about wig length, and there is a wig length chart you can refer to in different hair textures. Ok, let's get started!
Introducing Wig Length And Why It Is Important To Know
"Getting a wig isn't like purchasing an accessory; it takes more than just seeing which one looks best. Knowing the wig length before you make your decision is quite important! 
The length of a wig is used to describe the measurement of hair from the crown to the ends. This information can help you better understand how long the hair will fall on you and how it can frame your face. Here's why it's so essential to keep your eye on this factor:
It will help you create hairstyles that look natural on you, and avoid

 

buying something too long or too short for your desired looks.

It makes styling a breeze. 

Knowing the exact measurements ensures that you can create looks with ease, as you can always expect the same result when it comes to styling.

Find the perfect cut for your face. 

For example, if you have a round-shaped face – then a longer wig would work best to create an elongated look. This way, you can always be confident that your wig will be perfectly tailored to fit your face.
Different Types Of Wig Lengths
It's the moment we've all been waiting for! Now that you have a better understanding of why wig length is so pivotal, it's time to start discovering all the incredible types of wigs out there – and their amazing hair lengths. 
With a world of options to explore, it's time to become an expert in wig lengths and styles! Eager to begin your exploration? First, let's get acquainted with the four main lengths of wigs. Here comes an awesome journey into the world of extraordinary and diverse hairstyles!
Short Length Wigs:
Short wigs are anywhere from a couple of inches to 10 inches long. These ultra-short styles are perfect for those looking for a sleek and modern look. If you love the timeless bob cut or pixie cut, then this is your go-to!
Medium Length Wigs:
Medium-length wigs are from 12 inches to 16 inches long. This is a great option for those wanting something short and long but still want the convenience of being able to style their hair quickly. From layered bobs to blunt cuts – these hairdos provide the perfect balance of style and effortless upkeep!
Long Length Wigs:
Long wigs are from 18 inches long to 24 inches long. If you're looking for a more voluminous style, then this is the length for you! From cascading curls and beachy waves to sleek & straight hair – these longer lengths offer plenty of options to choose from.
Extra Long Wigs: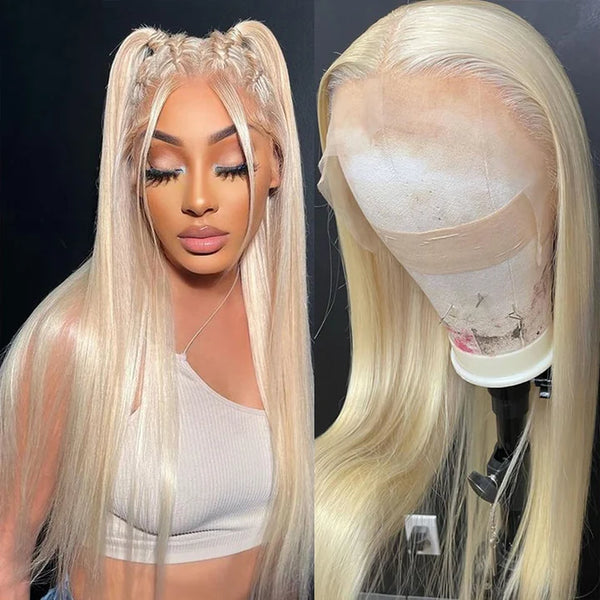 Extra-long wigs are 26 inches and longer. This is perfect for those who adore long, luxurious locks! From Rapunzel-esque tresses to glamorous Hollywood waves – this length makes it possible for you to create any look your heart desires!
Wig Length Chart
Understanding Wig Length Chart to Make Sure You Get the Perfect Fit
Shopping for wigs online can feel a bit intimidating if you don't know what size is best. Don't fret! Wig-length charts are always here to help. 
They're essential in understanding the different lengths available and making sure that the wig you buy fits your desired style. So, what kind of information can you find while browsing a wig length chart? 
Well, usually, these charts will display 11 sizes, ranging from petite up to extra large! Knowing which one is right for you gets easy when following these reference points:
8-inch wig:
Summer is here, short wigs are always the first choice. This length of 8 inches is specifically perfect for those looking to keep a sauve, stylish look.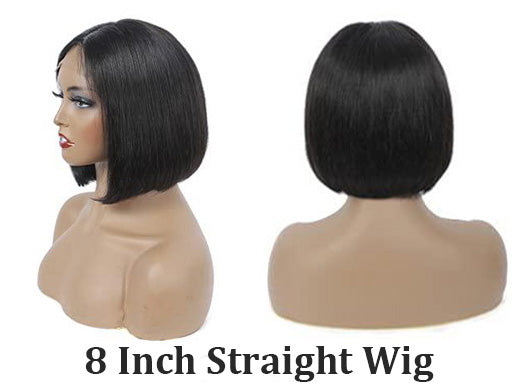 Whether you have a classic bob, an asymmetrical cut, wavy curls, or textured beach waves, this length easily frames your face and enhances your features. An 8-inch straight wig can cover your chin.
10-inch wig: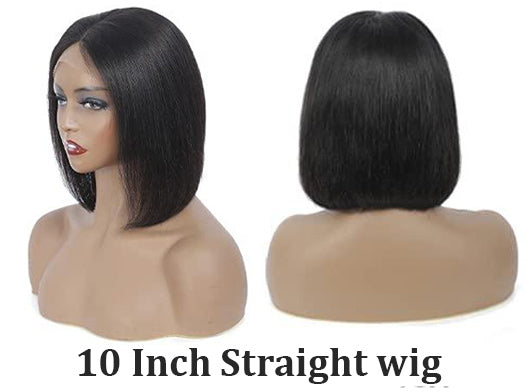 The 10-inch wig is great for women who want a bit more length than an 8-inch wig but still prefer a shorter style. It works well for a middle or side bob that's a little longer and also for creating curly spiral styles. When straight, the wig falls about 10 inches above the collarbone. The length provides enough flexibility for styling without feeling too heavy or excessive.
12-inch wig:
The 12-inch wig is perfect for those looking to achieve an edgy look! It's the perfect length if you want a bit more volume and versatility but still want something that won't take too much time to style.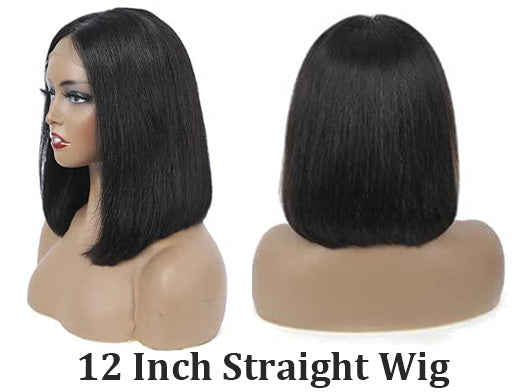 Whether you're aiming for a bob, beachy waves, or curly styles – this length is sure to do the trick! When straight, it falls near most people's collarbones. This can be seen as the ideal length for the trendy lob (long bob) that's been popping up everywhere on social media lately.
14-inch wig:
The 14-inch wig is a great choice for trying out different hairstyles and experimenting with your look. Medium to long, it's very versatile, and you can create desired cuts ranging from bangs, bobs, A-line bobs, or cute feathered layers.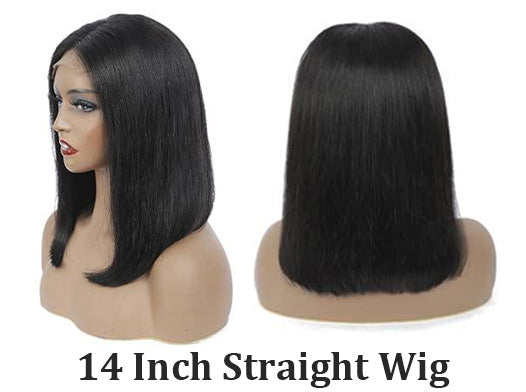 Plus, this style works with almost any neckline – you won't need to worry about the rest of the wig being seen, as it just scrapes the collarbone and your bra straps. You can also look forward to plenty of volumes, even when straight!
16-inch wig:
The 16-inch wig is a great length for those looking for something in between medium and long lengths. This length falls mid-collarbone, making it perfect for shoulder-length cuts that are still easy to maintain. 
You can add a bit of volume and style to a variety of looks, from loose waves to fun updos. You'll also be able to switch up your look with some light curls or straighten it for a sleek finish. The 16-inch wig is also suitable for bigger faces as it will add more length and balance out proportions.
18-inch wig:
This is the most popular length for women and is considered a long wig. It falls just to the shoulders and looks amazing in a variety of styles. From curly hair, silky straight hair, teasing waves, or anything else you can think of – 18-inch wigs make it possible for you to flaunt your unique style! 
The best thing about this length is that it doesn't feel too overwhelming and still provides a manageable style. Plus, it's very easy to keep up with regular trims for upkeep.
20-inch wig:
For a long and manageable yet dramatic look, consider getting a 20-inch wig. This length falls slightly close to your waist, making it ideal for those who prefer a modern and sophisticated style. 
You can style it in various ways, such as adding curls or waves or layering it to give it more texture. This length also provides a bit of volume without going too long. Moreover, maintaining it is easy with regular trims.
22-inch wig:
When it comes to wig length, 22 inches is pretty bold! If you're looking for something different, this length is perfect – dare to be daring with unique styles like beachy waves, long curly locks, or an asymmetrical cut! 
Plus, it looks just as great looping past your waist as it does tuck into an updo. And the best part? Because of its lengthy nature, it's extra easy to take care of!
24-inch wig:
The longest length that we offer is a 24-inch wig – an absolute showstopper! This length looks amazing in straight and sleek styles, as well as curly and wavy ones. 
It falls to the lower back, making it a great choice for those who like to make a statement with their hair. You'll be able to draw attention and have fun switching up your styles with ease.
26-inch wig:
The 26-inch wig is a truly magnificent length and is often seen on celebrities. This extra-long hair will fall almost down to your hips or lower, giving you a look that is sure to turn heads! 
You can style this length in almost any way you can think of – from sleek and straight, to curls and waves, to braids or updos. Plus, you can be sure that this length is manageable and easy to take care of!
28+ inch wig:
The 28+ inch wig is the longest length available for wigs. It may seem intimidating at first glance, but it can still be styled in many ways. For instance, you can create cascading curls or waves, tight coils, or a romantic side braid. 
If you're feeling extra adventurous, you can even try out half-up-half-down looks and ponytails! Of course, the best part about this length is that it's sure to turn heads wherever you go!
No matter which extra long wig length you choose, it's sure to make a statement and help you stand out from the crowd! With these wigs, you'll be able to switch up your look with ease and have fun experimenting with new styles. From 16 inches up to 28+ inches – there are plenty of options for you to choose from. So go ahead and grab a long wig that will make everyone take notice!
How to Measure Your Wig Length?
Here we will discuss some tips on how to measure your wig length:
1. Give your wig the same attention you'd give your hair, and place it on a mannequin head! Take a step back when you're done to make sure it looks great. 
Don't think that laying the wig flat on a table is an option; the measurements won't be accurate and reliable in that way. And no matter what, don't flip the wig upside down!
2. Start by placing one end of the flexible measuring tape on top of the mannequin's head, making sure that it is in alignment with where the crown would be if they were alive! This is the end that starts at 0 inches. 
Then continue to place the two ends in a way so that one ends at the point where the top of the head begins to slope downwards. Why go through this extra effort? Because when doing so, you can guarantee that you measure at an accurate position, guaranteeing incredible results for your project!
3. Hold one end of the measuring tape at the hairline! Then, guide the other straight down the back of the wig until you reach the bottom. No worries if it's not aligned perfectly – stretch it out with your palm so there are no irregularities, and you can get an accurate measure. Now, voila! You have discovered the wig's length!
Let's talk about how to select the suitable wig length for you now that you're aware of how to measure it.
Selecting the Wig Length Based on Physical and Facial Features
Now that you've learned the ropes of gauging the ideal wig length and grasping the distinct flair brought in by a combination of hair textures, it's time to self-discern. It's easy to forget that every woman has her physical charm and character. But understanding which wig lengths would suit your precise facial and body artistry can make all the difference. Here, we will take you one step closer to helping you select an appropriate wig length that closely mirrors your physical features:
1. Heart-Shaped Face: If you have a heart-shaped face, your goal should be to create the illusion of balanced features by adding volume at the jawline. The optimal length for this face shape is shoulder-length wigs and longer, as these can provide you with a lot of styling options.
2. Round Face: If you have a round face, your goal should be to elongate the appearance and create more angles. The optimal length for this face shape is long wigs that are 24 inches or longer, such as extra-long wigs. These will create an illusion of length and will draw attention away from the roundness.
3. Square Face: If you have a square face, your goal should be to soften the strong angles and create more curves. The optimal length for this face shape is wigs that are long wigs, such as extra-long wigs. These can provide plenty of frame-like structure to the face while still making you look gorgeous.
4. Oval Face: If you have an oval face, then your goal should be to balance the features and create angles. The optimal length for this face shape is mid-length wigs, such as those that are 16-24 inches in length. These can provide structure and definition without overpowering or overwhelming the face's features.
5. Height: Apart from facial features, you also need to consider your height when choosing the wig length that's right for you. If you have a height of 5'6" or shorter, then short and medium wigs that are 10-14 inches in length can be ideal. On the other hand, if you have a height of 5'8" or taller, then long and extra-long wigs that are 18-24 inches can be the perfect choice.
6. Structure of Your Body: Another factor to consider is the structure of your body. If you have a petite frame, then shorter wigs and bobs will look good on you as they can provide balance. Similarly, if you have a larger frame, then longer wigs may be more suitable for you as they can add length to your overall appearance.
Now that you understand how to measure your wig length and select the suitable one for your physical and facial features let's get down to styling! With all these ideas, you will certainly look stylish and make everybody take notice. So go ahead, rock the world with your new hairdo!
In a Nutshell
As you can see from this guide, the wig length is an incredibly important factor when selecting your wig. Understanding the different types of wigs and their lengths will provide you with the best options to pick from while using a wig length chart to find measurements is important to make your purchase perfect. 
---