The Most Gorgeous Fall Hair Color Ideas For 2023
As the fresh greens and smoldering pinks of summer turn to the welcoming shades of autumn, it's time to revitalize our style with one of the unexpected hues that this season has to offer! How about trying some of this year's hottest fall hair color trends for an inspired new look?
In this blog, we'll explore the chicest adjustments perfect for every hair type and taste. From subtle highlights through deep bronzes and remarkable dark brown colors to ginger spice balayage–you'll be sure to find a statement look that is fun and flattering. So why not dare yourself to experiment with one of these beautiful fall hair color ideas? Get ready for an awesome transformation!
1. Warm Brown Balayage
Who says low-maintenance needs to lack in style? Warm brown balayage might sound simple, but when it comes to subtle brightening effects and adding dimension to your look, nothing matches this trend!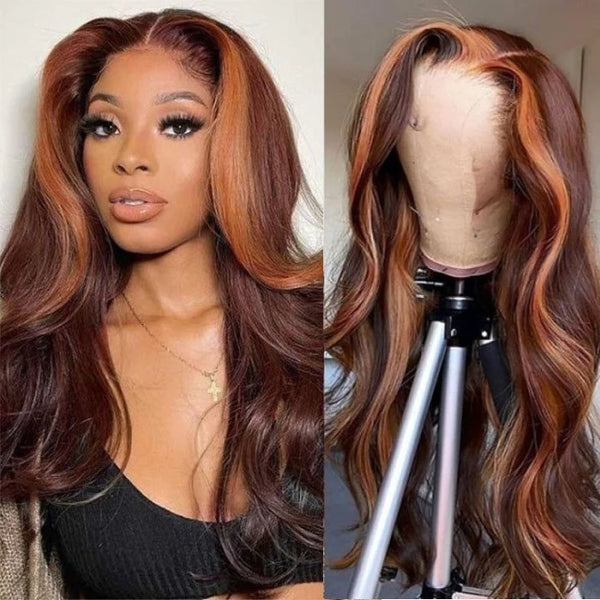 This unique form of ombré is starting to gain widespread popularity as the colors transition from dark to light more naturally. Its distinctly adaptable features make it a great choice for brunettes who want to tinker with a lighter hue but are hesitant to give up their signature shade all at once. Truly, warm brown balayage is the ideal option if you're just beginning your journey with hair color experimentation!
2. Mahogany and Copper Balayage
It's official; the fall season is the prime time for mahogany meets copper balayage! This combination of colors creates a look that will truly leave people wanting more. Lights, camera, prepare to stun; choose this radiant style when you're looking to upgrade your hair this autumn.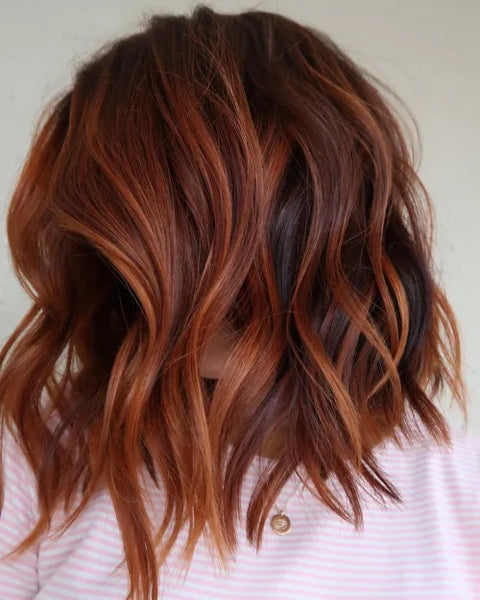 One amazing thing about adding highlights is seeing the colors illuminate in the sunshine – you won't be able to resist stealing a few extra glances at yourself in the mirror! Make sure to pick a tone that works perfectly with your base shade and discover how it can make an impact on your overall appeal.
3. Fiery Pumpkin Ombre
When it comes to fall hair color trends, there's one low-maintenance look that has been exploding all over Instagram and Pinterest: fiery pumpkin ombre. And we can see why! With warm copper tones melting into a lighter hue, it's the perfect way to make an eye-catching statement.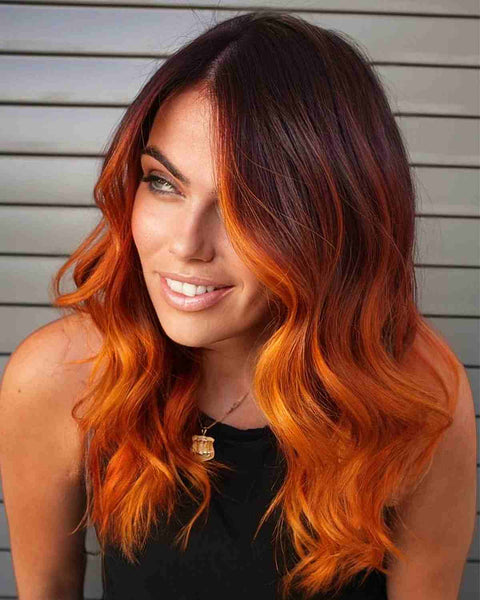 Besides being stunning, the copper gradient also looks great, set against darker hues at the top for a more gradual fade. Let yourself be enchanted by this sizzling hue—it could even cause some sparks of fire in your very own heart! So get ready because this is a must-have look you don't want to miss out on.
4. Rusty Apple Cider Balayage
Brace yourselves — rusty apple cider balayage is officially one of the hottest fall hair colors of 2023. The stunning mixture of deep red and brown hues gives it a look like you've just come back from a beach vacation.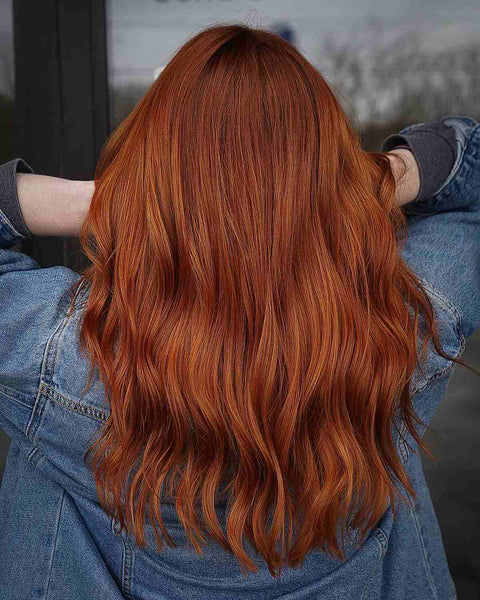 Best part? These bold and beautiful hues stay vibrant for weeks, meaning fewer touchups! As fabulous as this 'do looks, it takes a bit of upkeep: grab yourself a color-depositing shampoo and conditioner, and make sure not to wash your hair more than 1 or 2 times per week so that your rustic and ravishing apple cider hue always looks its best.
5. Dusty Lavender Hair
Imagining a vibrant new look has never been easier with dusty lavender hair! With its softer pastel hue, you can take your style to the next level without a full commitment – and who doesn't love that? Light bases and beautiful muted tones make this trend irresistible.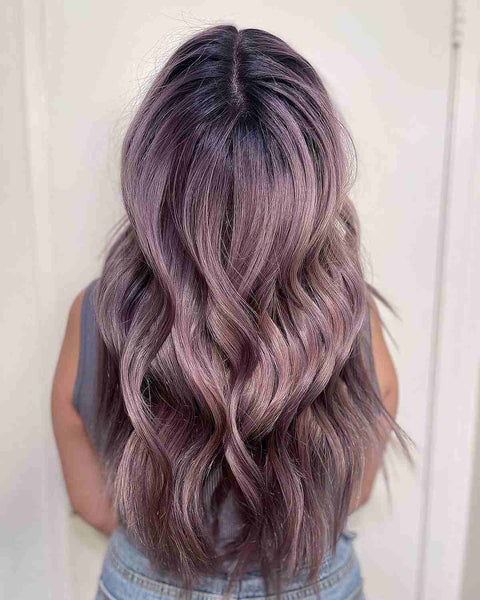 Why not dive into this timeless color trend? Make an unexpected yet stylish statement with your shimmering locks! It's so much fun to experiment with tips, tricks and feels of lavender. Say goodbye to boring hair days and walk on the wild side for something special; why not give it a try?
6. Strawberry Blonde
Everyone's jumping on the blonde trend, so why not stand out with strawberry blonde!? This smart shake-up of cinnamon and strawberry hues will have heads turning. Plus, it's relatively low maintenance, so you don't need to spend a lot of time styling your 'do every morning!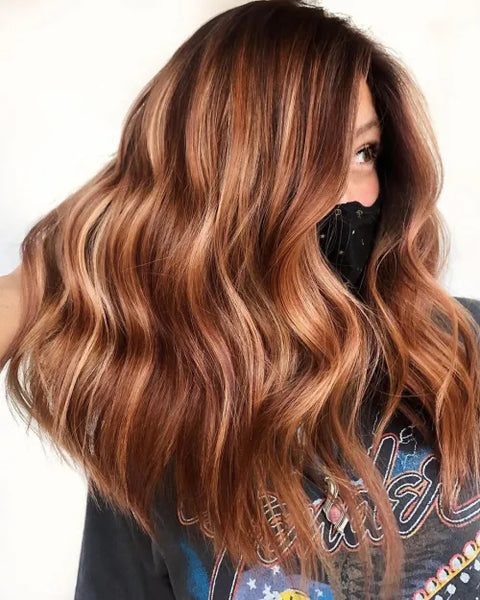 Whether you keep it long or short, this flattering color will look great regardless. It also makes a great choice for anyone who's looking to lighten things up from brunette while still keeping things looking natural. There's nothing like strawberry blonde to create an amazing new do this season!
7. Multidimensional Brunette Locks
Are you a brunette looking to make a statement with your new look? You're in luck – the evolving fashion scene has made brown hair on trend, so now's the perfect time to update your style! Don't be afraid to take your hair game to the next level by experimenting with multi-dimensional colors.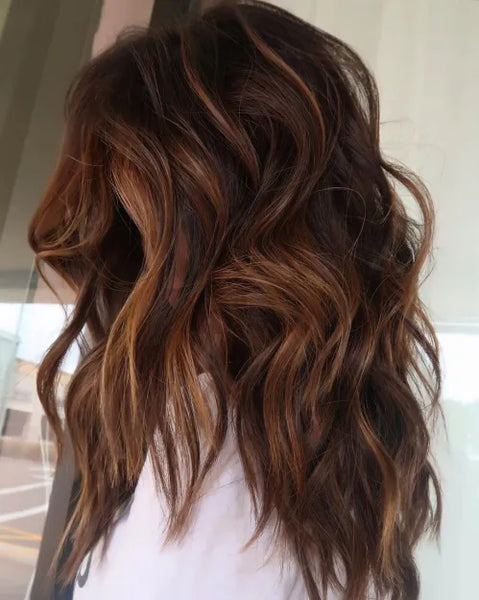 Create combos of chocolate brown, chestnut hues, mahogany, and butterscotch – just make sure all the colors look great together for the ultimate compliment-friendly finish! What better way to add an extra sparkle of glamour to your locks? Show off that amazing eye-catching mane and embrace this fashion item now– plunge into it today!
8. Reddish Brown Hair
Last but certainly not least is the timeless reddish brown hair! As soon as the fall season is approaching, colorists are flooded with requests for rich and vibrant dark red tones. For sure, it is a great way to upgrade your natural brunette or black hair hue.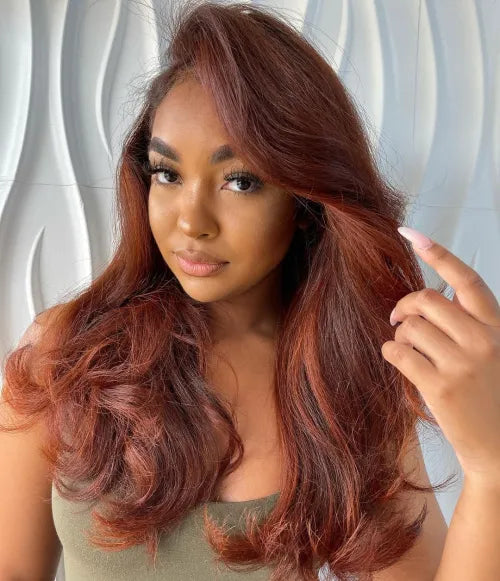 But maybe you want to try something more unpredictable? Try adding copper or caramel highlights for an energizing dimensional look! Or go classic and opt for a deep burgundy shade. Whatever you do will be bold and conversation-starting! So why reserve an exciting transformation this fall? Let your crowning glory show off its natural beauty in a brand-new way!
In A Nutshell
To wrap up, there's no need to be left in the cold this fall. Bake up a hot mix of gorgeous hair color ideas, from warm brown balayage to dark red hair. Spice your lookup with mahogany and copper balayage, or give yourself some extra warmth by sporting a fiery pumpkin ombre. Make a statement with strawberry blonde or spread some dust in the form of lavender hair.
If you get an instant fall hair color without damaging your own hair, why not try cynosure fall color wigs? Here you can find various brown wigs, ginger wigs, honey blonde wigs, and auburn wigs to match your fall outfit.
Or if that doesn't tickle your fancy, go multidimensional and choose brunette locks as your style option this fall! With all these stunning choices, you'll be head-turning and ready for any occasion. So get out your mixer - we all know how hard it is to pick just one shade - because you don't want to miss The Most Gorgeous Fall Hair Color Ideas of 2023!
---